PcMars Accounts Payable
Farm Accounting Software For Windows
PcMars Accounts Payable module allows users to enter bills/invoices to focus on cash flow management. User can enter vendor name, invoice date, total amount due, address, accounts payable number, due date and any memo.
When entering there is an area to split an accounts payable into two or more separate line items. For instance, the phone bill may be split into a division for household and farm.
When user wants to pay the entered bills/invoices, PcMars will ask which bank account to make the payment from, the date to be paid, and automatically fills in the next check number for the selected account.
User can then select those accounts payable items that they would like to pay. Multiple accounts payable can be selected or just one. User can partial pay a selected accounts payable, and can combine two or more accounts payable into one.
There is an Unpaid Accounts Payable Report that will show user the accounts payables that have not been paid with various selection, sorting and totaling options.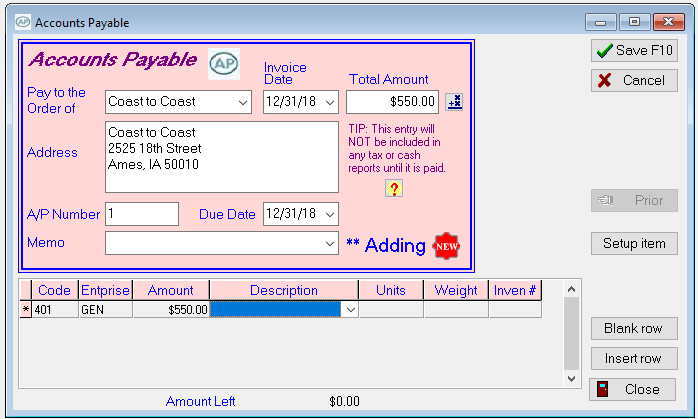 User will enter bills / invoices to help with cash flow management using this screen. Accounts Payable data will not be included in any cash or tax report until it is paid. Accounts Payable data will not be included in the Year End Detail or Tax Preparation reports and will not affect taxes.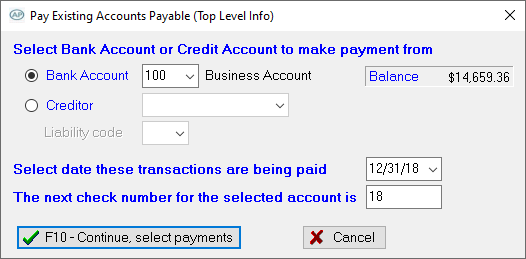 Pay Existing Accounts Payable
Selecting Pay Existing Accounts Payable, users are able to select which bank account or loan vendor to make the payments from as well as the date the transactions will be paid. PcMars automatically puts the next check number of the account selected or user can override that number and use a different check number. User can then select which payment(s) need to be made.

After clicking on "Continue, Select Payments", a list all of the unpaid invoices that have been previously entered will populate. Once user selects the invoices to pay, the Number column is filled in with the check or credit number supplied previously.
Once user selects an invoice(s) to pay by putting a checkmark in the box, user will then click the "Post Paid" button.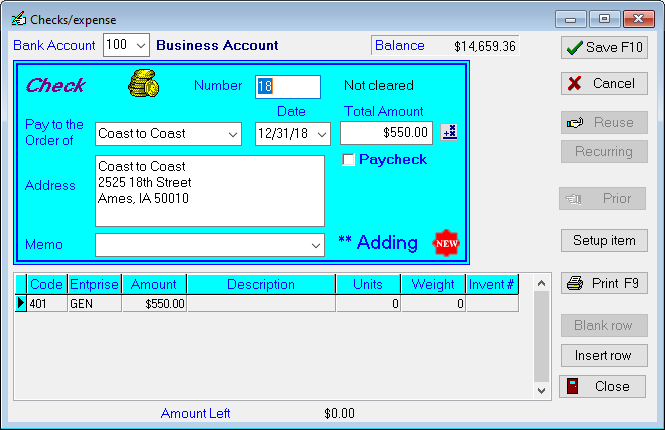 After clicking on Post Paid, the check can now be recorded and printed. If multiple invoices were selected, the check entry screen will cycle through all of them. Accounts payable also has the ability to partially pay a selected Accounts Payable and also the ability to combine two or more Accounts Payable into one.